A Hot Romance with a Feisty Heroine You'll Love
Looking for a romance with the right amount of wit and humor? Take a look at today's New Release – The Wanted Bride by romance author, Sylvia McDaniel. It currently has a 4.7 star rating. "If you love your romance saucy with a healthy dash of humour, this is a delightful book that you will love, love love!!!"–Taryn Carter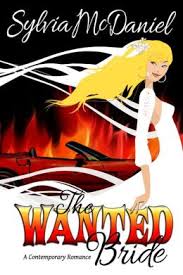 A Little About The Wanted Bride:
Valerie Burrows is running from a wedding, her attorney fiancé and the law. Matt Jordan, the Colorado Crusher, the most successful liability lawyer in Colorado is searching for a wife. They're on a collision course where Valerie must change and become independent, while Matt learns sometimes in order to find yourself you must become someone else.
Some Praise for The Wanted Bride:
"This book is amazingly well written and very entertaining. It's also a very fast paced read. I loved the characters in this story." –Jenny Bynum
"Ms. McDanial weaves a very funny and romantic tale that had me laughing on the first page. Great characters, lots of fun and very touching." –Geri Foster
Don't hesitate to grab your copy of a touching and sweet romance, The Wanted Bride today.