Category:
Vampire Romance
Award-winning and bestselling author, Tracy Cooper-Posey is back with the smoking-hot vampire romance, BLOOD KNOT. To survive they must trust each other. Only…can they? Pick up today's feature book and find out.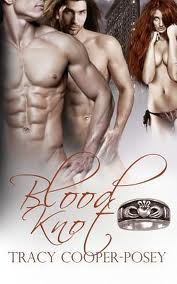 FREE for a limited time ONLY!
A Little About BLOOD KNOT:
Winter, a professional thief who can manipulate others' biologies by touch, accidentally "healed" her former partner–and former vampire–Sebastian, whom she secretly loves. Her healing created a symbiotic pairing between them that neither of them wants.
Nathanial, a sexy thousand-year-old vampire and Sebastian's ex-lover, talks Sebastian and Winter into stealing evidence that will expose all vampires to the world. But Nathanial is a puppet-master who doesn't believe in falling in love with humans, leaving Winter unsure of his real feelings for her once he seduces her, or how he feels about Sebastian, the former vampire-now-human whose life he has turned upside down once more.
But the evidence they steal is hot property. The future of all vampires is on the line and others will stop at nothing to get it, leaving Sebastian, Winter and Nathanial with no allies but each other.
About the Author:
Tracy Cooper-Posey has been writing and publishing romances since 1999 when she sold her first two books in the same week (after six years of flogging her work to editors who didn't recognize the staggering genius within). Many of the fifty-plus books shes released so far have been romantic suspense under her own name. She's also squeezed in the odd contemporary and historical romance or two. For a brief stint, she wrote paranormal and urban fantasy romances under the name Teal Ceagh. She is a bestselling author and has won multiple awards.
What Readers Are Saying About BLOOD KNOT:
"I lost a little of my heart to each of these characters, Winter for her horrible childhood, Bastian for his loneliness, and Nial for what life as forced him to become." –An Alternative Read
"Hot doesn't even begin to cover it! The premise of the story was really interesting to me: Two male vampires and one female who is supposedly human who are best known…for their skills in stealing." –Jamie for Jamie's Bookshelf
"An amazing mixture of sensuality, power and emotions. It left me craving more. I emerged with a lump in my throat, tears in my eyes and my heart racing. I couldn't get enough of the characters." –Belinda for The Bookish Snob
If you haven't grabbed your copy of the smoking-hot vampire romance, BLOOD KNOT, you're missing out.