Monthly Archives:
September 2013
"This book is uplifting and beautiful. In addition, it glorifies the value of family, friends, and finding true joy.
A must read. Looking forward to what comes next from this author." –Amazon Reviewer
Take a look at the much-anticipated fourth book in the Daddy's Girls Series, Beyond Repair by author Chelsea Camaron. It currently has an outstanding 4.8 star rating with 10 reviews.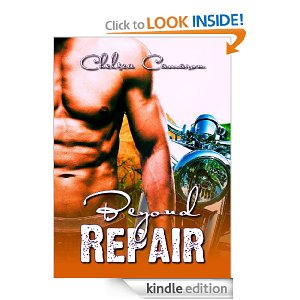 A Brief Synopsis of Beyond Repair:
Harrison and Tiffany have a long history of hooking up. Tiffany, a spoiled Southern Belle is embarrassed by a working class Harrison. After over two years apart Tiffany is missing his touch. She heads to Charlotte to bring some important news. But Harrison is finally settled with a job he loves, his sister close by, great friends, and an awesome agreement going with Sophia. Has Harrison fallen in love or just lust with Sophia?
After all this time and hurt feelings, is he really meant to be with Tiffany? Can Harrison manage to let his guard down and find his way back to Tiffany? Will Tiffany be satisfied with a regular working class mechanic? Or is their relationship in the past and beyond repair?
About the Author:
Chelsea Camaron's love for reading has sparked a new love for writing with a few projects currently in the works. She is a big kid refusing to grow up, she spends most days playing with her kids, embracing her inner five year old. Feel free to email her at chelseacamaron@gmail.com. Follow her on twitter @chelseacamaron Like the Facebook fan page to keep up with all future project news, updates, and sneak peeks. http://www.facebook.com/authorchelseacamaron
What Fans Are Saying About Beyond Repair:
"It stole my heart, made me laugh, cry and puddle into the floor…You have to read this because if not you are missing out on so much!" –Amazon Reviewer
"Of all the books in this series, this one has got to be my favorite! It's has made my cry, and my heart happy with the ending. I love you!" –Amazon Reviewer
If you haven't read the Daddy's Girls Series, make sure to grab them all today.
Next Page »