Category:
Light-Hearted Romance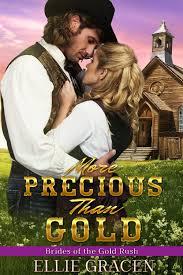 Romance fans are loving, More Precious Than Gold by Ellie Gracen. Don't miss this outstanding Clean Western Mail Order Bride Romance.
Catherine and her family are destitute. She decides the best thing is to find a rich husband who can help take care of her family. In the mail order ads, she finds Stanley Covel, the owner of the gold mine in the town of Lead. But Stanley turns out to be rotten, but a poor miner has captured her heart. She must decide between true love and financial security.
"James sounded like a man I would travel thousands miles to marry. Loved the storyline and I look forward to the next book." –Amazon Reader
"A nice, clean romantic western set in a real gold rush town. Enjoyable romance that doesn't make you want to skip pages. And it takes you all the way to the end for the surprise ending." –Amazon Reviewer
Next Page »