Monthly Archives:
June 2014
Romance readers will enjoy a roller coaster ride of passion, deception and love with the #1 Kindle bestseller in romantic suspense, romantic adventure and women sleuths, KNOCKOUT! A Passionate Police Romance by Emma Calin. Find out why one reader says this about KNOCKOUT!, "Doubt and danger keep a reader's mind engaged (in between the steamy romance scenes) and the finale is worth the wait. Emma Calin delivers a knockout punch with this novel, so buy your copy today."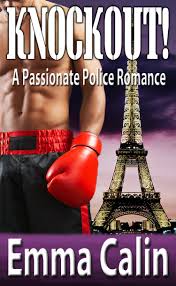 A Little About KNOCKOUT! A Passionate Police Romance:
An international Mafia match-fixing racket. An undercover cop. A sexy boxer caught up in a scam.
Interpol cop, Anna Leyton, spirals down into a hopeless vortex of sexual and emotional passion as she fights to keep her professional cool.
Who is deceiving who in this fast moving ride across continents? What motivates her art loving prize-bull of a lover Freddie La Salle?
The power of love and trust stands against greed and crime as conflicting forces grapple for that knockout punch.
Knockout! A romance novel with a twist of suspense that will take you on a roller coaster ride of passion, deception and love.
About the Author:
Emma Calin was born in London in 1962. She currently lives in France and the UK. She has been writing since childhood and has won numerous local, national and international prizes for poetry and short stories. 'KNOCKOUT!' is the first in Emma's Passion Patrol' series. A love story set against a backdrop of international gambling corruption and deception. This book is now available in both paperback and Kindle formats.
What Fans Are Saying About KNOCKOUT! A Passionate Police Romance:
"The story is so full of passion, it is easy to be swept along. The plot held up nicely, with a couple of twists that I did not see coming." –C. Williams
"This book is HOT. It is HOT because it is so, so incredibly intelligent!…This is a high quality SUSPENSE NOVEL interwoven with an intriguing love story! It is quite intelligently treated and utterly unpredictable." –Jo V.
"For readers familiar with romantic thrillers, Knockout! will be a treat! It's a fast, fun read and will certainly satisfy their desires…." –Amazon Reader
"…an intricately woven tale of crooks, murder, rigged fights and how true love can conquer all." –Queen B.
Don't miss today's hot romantic suspense, KNOCKOUT! A Passionate Police Romance.
Next Page »