Monthly Archives:
May 2014
Readers are raving about today's non-stop, gripping suspense. Dead Ringer by V.B. Tenery is an excellent thriller with just the right amount of romance.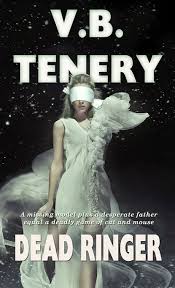 A Brief Synopsis of Dead Ringer:
Mercy Lawrence is terrified. Bermuda airport facial recognition software has identified her as missing runway star, Traci Wallace. Despite Mercy's protests, Traci's husband, ex-CIA agent Thomas Wallace, is convinced Mercy is the mother of his ill six-year-old son. With only his son's welfare in mind, he abducts Mercy and takes her to a private island to care for the boy.
But Mercy soon discovers there are men much more dangerous than a father desperate to save his son. Her doppelganger has made deadly enemies–a relentless team of killers who now want her dead.
When Thomas is lured into a covert mission to rescue a CIA asset and uncover a government mole, Mercy is left isolated and alone–and Thomas finds himself stranded on foreign soil with a compromised mission and a wounded agent.
Fighting against a rogue nation's timetable for launching a nuclear strike, he has to escape Saudi Arabia alive and rescue Mercy and his son before assassins finish the job they started.
About the Author:
Author V. B. Tenery lives with her family in East Texas. Her passion is writing books with shinning characters and settings with plots so exciting readers come away feeling delighted with the experience. Not content to stay in one genre, her novels range from contemporary suspense and supernatural suspense, to an upcoming historical suspense set in WWII England.
What Fans Are Saying About Dead Ringer:
"I loved the author's first novel and I was not disappointed in this one. It took me on a roller coaster ride with twists and turns that kept me turning the pages until the end. I certainly hope there will be other novels to follow by this author." –Ann E.
"I highly recommend this book to all lovers of suspense and mystery stories with lots of danger and some romance in the mix." –Deanna
"This non-stop thriller gripped you from the first page! Well written with a well developed plot that keeps you guessing." –D. Austin
Don't miss today's non-stop, gripping suspense, Dead Ringer.
If you're a fan of Janet Evanovich and looking for a hilarious and engaging RomCom, dive into today's feature book, QUEENIE BABY: On Assignment by Christina A. Burke. It currently has an outstanding 4.6 stars with 198 reviews. "Queenie Baby was everything I hoped it would be – funny, engaging and romantic! The story is clever and creative, and the characters are HILARIOUS." –Elizabeth A. Jones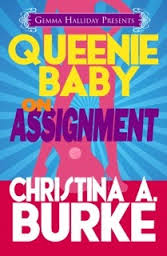 A Little About QUEENIE BABY:
'On the wrong side of thirty' according to her mother and still living the bohemian lifestyle of a musician, Diana is having a double martini day. A sought after performer on the lame Annapolis, Maryland bar scene, Diana works as a temp to pay the bills. This week her assignment is to help Mr. Vann Pyre find love online. Unfortunately for Diana, the only man in her life is Max, her fluffy, white Shitzu-Poodle. But unexpectedly, Diana finds herself up to her chin in men. When Diana's love life goes from nonexistent to off the charts, will she give an old romance a second chance? Or will she take a chance on new love?
About the Author:
Christina A. Burke wrote her first novel more than twenty years ago. Life and career took over until she found her way back to fiction writing through the unlikely avenue of metastatic breast cancer. Among other business and education credentials, she holds a Doctorate in Business Administration. Christina, her husband, Jim, and their two children live in Dover, Delaware with the family sidekick, Max the Wonder Dog. Find her at www.caburke.com
What Fans Are Saying About QUEENIE BABY:
"I thought this romance by C.Burke was a riot. Funny and romantic. I always love discovering a new author. The plot was unique and the characters memorable. Well written story. I can't wait for her next." –Amazon Reader
"Her characters are well thought out and fully realized. The pace is far from frantic but developed so that you are swept along on a tide of hilarious mishaps. If you are a fan of Janet Evanovich's Stephanie Plum the you are sure to enjoy Queenie Baby: On Assignment. Surprisingly good book!!!" –Anita B. Kearney
If you like laugh-out-loud romantic entertainment, make sure to grab your copy of the delicious RomCom QUEENIE BABY today.
Fall in love with today's sweet romance, PERFECT HEARTS by bestselling author Autumn Jordon. The 2nd book in The Perfect Love Series will have you begging for more.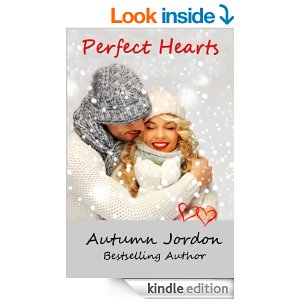 A Little About PERFECT HEARTS:
Blockbuster movies, platinum records, and great literature laud it. Every living soul searches for it. Carrie Twines' livelihood depends on it. In Black Moose, Vermont, everyone seems to be in love. Their bliss reminds Carrie of what she lost as a teen when heartache sent first loves on different paths. However, a game of chance brings back the man she'd walked away from years ago. Luke's even more kind and sexy than he was fourteen years ago, but can she trust him with her heart again?
About the Author:
Autumn Jordon is a quiet nut with a reputation for finding trouble. She is a Romance Writer's of America National Golden Heart finalist and a Golden Leaf Winner and has been voted a 2013 Kindle Book Reviewer's Best Indie Romance author semi-finalist with SEIZED BY DARKNESS. For more info about her stories, please visit www.autumnjordon.com
What Readers Are Saying About PERFECT HEARTS:
"Autumn Jordon's Love series is just that – about sweet love. No angsty drama, just two people's journey to falling in love. This is the 2nd book in the series and its about a second chance between two people whose lives took them in opposite directions but they find themselves back in Black Moose – one trying to live a normal life and the other trying to put his back together." –Top 1000 Reviewer
Pick up today's sweet romance, PERFECT HEARTS today.
Next Page »