An Emotionally Charged Romance
Romance readers, jump into today's romantic war drama, and our feature book – When I See You by Katherine Owen. It currently has an impressive 4.4 star rating with 75 reviews. "When I See You is yet another brilliant romance in which Katherine Owen proves that, not only can she create excellent characters, but she can put them through the wringer and make them come out on the other side as even better characters…"  Ellen Fritz – Books4Tomorrow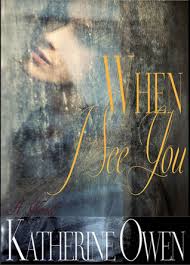 A Little About When I See You:
She believes that love can never last, promises are usually broken, and true happiness is extremely elusive in the long run. He believes most risks are worth taking, the promises he makes will be kept, and love doesn't factor in his relationships any longer. They're both wrong.
About the Author:
Katherine believes relationships are tested in all kinds of ways so that's what she loves to write about. For future release dates for her novels and general anecdotes about trust, love, and fate, go "like" her Facebook page https://www.facebook.com/KatherineOwenauthor or stop by her amazing website bit.ly/KObuymereadme or http://www.katherineowen.net
What Fans Say About When I See You:
"…I knew going into this book that it wouldn't be a heart and flowers type of story. When I See You is emotionally charged and I felt every single moment." The Autumn Review
"…Jordan and Brock have an inordinate amount of bad karma going on…What pulls this story out of the hellish mire it could be stuck in, is this amazing thread of almost palpable hope that winds its way through the narrative…" Dana Burness – Let's Book It
Make sure to grab your copy of When I See You today.