Action-Packed Sexy Paranormal Romance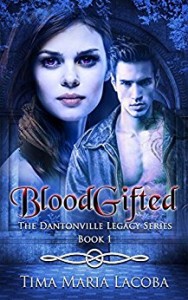 You don't want to miss today's feature, the action-packed sexy paranormal romance, BloodGifted by Tima Maria Lacoba. ONLY $.99 Right Now!

What's a girl to do when she learns she's the key to breaking a centuries-old family curse? Become dangerously intimate with a jaw-dropping vision of male hotness hiding a secret agenda of his own. Nothing could be simpler. Or is it? Primary school teacher Laura Dantonville is about to find out.
"Great mix of paranormal, suspense and romance & so much more … " Storm Goddess Reviews
"I was hooked from the beginning …" Chick Lit Plus
"For those readers who enjoy a story full of twists, turns and intrigue – this is a story you have to pick up. I can see why this book has been a contender for many awards." Top 500 Amazon Reviewer