Category:
Urban Fantasy Romance
Don't miss what one reader calls, "an excellent and gripping stand alone novel…sensational and breath-taking Vampire series." Today's feature is the incredible urban fantasy romance,  The Nightlife San Antonio by author Travis Luedke.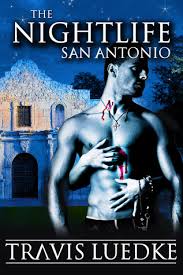 A Little About The Nightlife San Antonio:
Vampires, Mafia & Mayhem: EMT on call, Adrian Faulkner resuscitates a beautiful woman after a Mexican mafia shootout. He can't explain why he picks her up in the hospital parking lot three days later, then ducks San Antonio police. Well, the hot sex might be part of it.  All she wanted was to escape the police. All he wanted was to get laid. They both got more than they bargained for.
About the Author:
Travis Luedke is a husband, father, and author of Urban Fantasy Thriller, Paranormal Romance, Contemporary Fantasy, Young Adult Fiction, and Sci-fi. As the author of the Nightlife Series novels, Travis lives very vicariously through his writings. He invites you to enjoy his macabre flights of fancy, but be warned: The Nightlife Series is violent, sexy, and occasionally violently sexy.
Find Travis at the following locations: https://twitter.com/TWLuedke  or   http://www.twluedke.com/
What Fans are Already Saying About The Nightlife San Antonio:
"If you're sick of all the usual suspects when it comes to vampire novels and the TV shows that have been all the rage these past few years then I seriously suggest you get your teeth sunk into Nightlife: San Antonio."-Reader
"Spiked with great one liners, fast paced writing, filth, sex and violence this is paranormal writing at its best. In an almost saturated market of Vampire novels the series stands out easily for its perfect blend of sex and violence." -Reader
"The Nightlife: San Antonio is a blood-splattered roller coaster of fun. It feels very grounded in reality making the supernatural action elements all-the-more powerful…If you haven't read anything by Travis Luedke yet, start with San Antonio. A few chapters in you'll be as hooked as any bloodslave." -Amazon Reader
Don't miss the urban fantasy romance, The Nightlife San Antonio.