Monthly Archives:
August 2013
Three old friends, one little girl, a large dose of danger. It's either a recipe for disaster or a reason to believe in happily ever after.
If you're looking for a risqué romance, take a look at today's smoking HOT NEW Release, Reunion: Three's Allowed by L.E. Harner.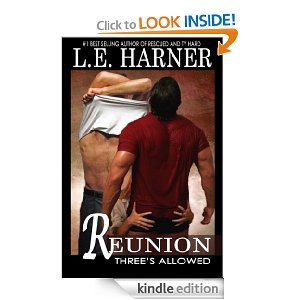 A Little about Reunion: Three's Allowed:
Ten years ago, while still basking in the afterglow of the best relationship of her life, Patti extracted a promise from her roommates, Grant and RJ. Anticipation for their coming reunion leads to visions of hot three-way sex, but nothing is ever that easy.
About the Author:
Laura shares her home with her husband and youngest son, a dog and a cat. Laura writes under the names L.E. Harner for her MMF ménage and MM erotica. She writes under the name Laura E. Harner for everything else. Her books can be found at All Romance eBooks, Barnes and Noble,  Amazon, and other online retailers. For her blog, book news, and to read free excerpts visit her website at: http://lauraharner.com
Connect information:
Twitter: http://twitter.com/lauraharner
Facebook: http://facebook.com/lauraharner
Smashwords: https://www.smashwords.com/profile/view/LauraHarner
What Readers Are Saying About Reunion: Three's Allowed:
"Laura Harner, as always, does a great job of making you understand and feel the characters. She doesn't pull any punches in regard to how they feel about themselves and toward each other." –Amazon Reviewer
"…it was sweet loving and smoking HOT!!!!!"–Amazon Reviewer
Make sure to pick up your copy Reunion: Three's Allowed, today.
Next Page »