Category:
Intellectual Romance
Get lost in today's beautiful and compelling love story, The Handfasting by David Burnett. It currently has a 4.6 star rating with 24 reviews. Reader Tracy Riva says, "This story is so touching, so emotional and so real… It deals realistically with some really difficult and sensitive issues and Burnett handles it all with just the right touch. I absolutely recommend this book."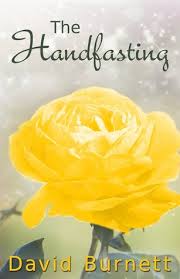 A story of love renewed, a suitor spurned, a vicious attack, a struggle for healing. It is a story of love that survives.
A Little About The Handfasting:
Standing before the altar, they were handfasted in the Celtic custom, engaged to be married. For a decade, she had been waiting, hoping, praying. Today ─ her birthday─ she finds a vase of yellow roses waiting for her. Stephen, though, is not Katherine's only suitor. Bill Wilson has known her since they were in high school. He has longed to wed her, and he finally decides to stake his claim. Although the action occurs primarily in New York City, psychologically, the story is set in a small town in Virginia. Change came slowly to the South in the seventies, and attitudes toward women were difficult to change. Women were expected to be subservient to men, to have children, to keep house. These attitudes threaten to destroy Katherine and the life of which she dreams.
About the Author:
David Burnett's first novel,The Reunion, is set in nearby Charleston. The Handfasting is his second novel. While most of the events in the story take place in New York City, psychologically, the story is set in the rural South of the 1970's. David has graduate degrees in psychology and education and previously was Director of Research for the South Carolina Department of Education. He and his wife have two daughters.
Praise for The Handfasting:
"The Handfasting is a book that left me with my jaw hanging open more than once (and I am not easily shocked!) David Burnett's second book shows his ability to tell compelling stories about love lost and found again." –Suzanne
"…an excellent read with a beautiful love story. It had my attention from beginning all the way to the end." –Len Phelps
"David Burnett's second book proves he is not destined to be a "one-hit wonder." The details of the scenes, whether in New York or Europe, shows the reader that he has personally explored them, which makes you feel like you are walking alongside the characters.
Another outstanding book by one of my favorite authors…" –Sheryl Starnes
Don't hesitate to grab your copy of the compelling, beautiful love story, The Handfastingtoday.
Next Page »