Monthly Archives:
November 2014
USA Today's Bestselling Author Alexa Grace is back with heart-pounding and unforgettable romantic suspense, Book Two of Profile Series, Profile of Terror. It has an outstanding 4.7 star rating with over 125 reviews.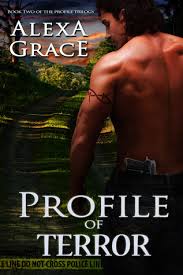 A missing coed named Abby Reece. Add a sociopathic serial killer who calls himself the Master.
A serial killer so deadly, the FBI's behavioral analysts want to know when and why he began killing, as well as the identification and location of additional victims. He will speak only to former federal agent, Carly Stone, a woman he blames for his capture. When the profiler finds herself at the mercy of this ruthless killer, his becomes the most terrifying profile of all.
"This book had me hooked within minutes of the first page. The characters were well thought out and the twists and turns in the plot in the book had me on the edge to find out what was going to happen next…Alexa Grace is an wonderful author and I will be looking forward to more of her books." –Tessa
"Alexa Grace never fails to capture you attention from the first page and never lets go! I love how she brings all her previous characters into her current book so you can keep up with where they've ended up…" –Amazon Reviewer
"I absolutely love reading anything by Alexa Grace and this book did not disappoint. It grabs your attention right from the start and you will not want to put it down. Looking forward to the next in the series!!" –Amazon Customer
If you haven't picked up today's heart-pounding and unforgettable romantic suspense, Profile of Terror, do it today.
Next Page »