Monthly Archives:
December 2014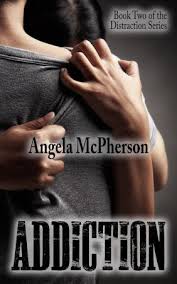 Romance fans you don't want to miss today's new adult/college romance short novel, Addiction by Angela McPherson.
Despite denying their love for years, in the end no distraction could keep best friends Tristan and Elle apart. Passion and heat explode as the two finally discover what they've been missing, needing, wanting for so long.
When Tristan and Elle return home for Christmas break, the two are gifted with a few unexpected surprises. Heather, Elle's sister, has come home and even better, she's now clean and sober. During this time, Tristan and his dad manage to work through their strained relationship, finding compromise and understanding. For the couple, everything is coming together—until circumstances change, threatening their newfound happiness.
"Wooohooh! ADDICTION has the heat factor, the unpredictable story line, and the heart-attack-inducing book boyfriend all in one…" –Amazon Reviewer
"I swear my heart was ripped right out of my chest, twisted around and shoved back in. Angela does a fantastic job of creating these vivid characters that you can total emphathize with…" –Amazon Reader
"This book is full of sweet, sweet love between the two characters. It is also full of emotional drama…" –Reader
Next Page »