Monthly Archives:
December 2013
A fresh New Adult paranormal adventure with just the right amount of romance and action. Teens and adults won't soon forget today's feature, Pride's Run by author Cat Kalen. It already boasts 4.5 stars with 80 reviews.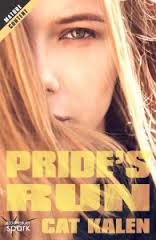 A Little About Pride's Run:
She's the perfect killing machine, until the boy she is sent to hunt becomes her only chance at freedom.
About the Author:
Cat Kalen is a multi published author in the romance genre under two pen names, Cat is a wife, mom, sister, daughter, and friend. Cat can never find balance in her life, is always trying to find time to go to the gym, can never keep up with emails, Facebook or Twitter and tries to write page-turning books that her readers will love. A maritime native and former financial officer, Cat has lived all over Canada but has finally settled down in her childhood hometown with her family.
What Readers Are Saying About Pride's Run:
"This debut YA novel by the talented Cat Kalen will appeal to teens and adults alike. I stayed awake well into the morning hours in order to finish it." –Paula
"Ms Kalen's story delves into the minds and hearts of an enslaved people. Using a paranormal element she shows the horror of slavery and brings home the truth that no matter a person's race, no man has the right to own another." –Elysa
"Be prepared to be swept off your feet by Cat Kalen's writing! You will not be able to put Pride's Run down until the end." –Amazon Reviewer
Grab today's YA paranormal adventure, Pride's Run. You won't be disappointed.
Next Page »