A Steamy Fast-Paced Romance Series
From award-winning author V.K. Sykes, three steamy, full-length romances about three sexy sports heroes and the women who challenge them at the game of love. Make sure to grab today's HOT NEW Release,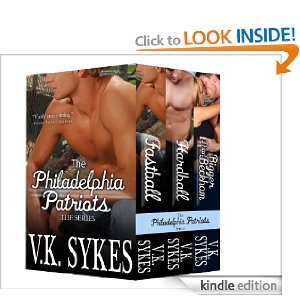 The Philadelphia Patriots 3 Box Set – Sykes knocks it out of the park with this sexy series.
A Brief Synopsis of The Philadelphia Patriots 3 Box Set:
FASTBALL
The last thing Jake needs is a pushy female reporter distracting him. But one look at Baseball reporter, Maddie Leclair and he finds himself trying for a different kind of play, one that involves bedrooms and not baseball stats. Sleeping together could damage both their careers, and Maddie is all about saying no. But when it comes to the game of love, Jake is playing to win.
HARDBALL Winner of The Kindle Book Review Best Indie Books of 2012 Contest
Nate Carter, star pitcher for the Philadelphia Patriots, is at the height of his game, with a great career and the most gorgeous women in town in full pursuit. Nate has everything he wants, or at least he thinks he does, until he meets the beautiful and brainy cardiac surgeon, Dr. Holly Bell. He's totally up for a hot affair, and Holly turns out to be the hottest.
BIGGER THAN BECKHAM
Sports journalist Martha Winston's life goes sideways when she inherits a Florida soccer team from her father. The team is almost bankrupt and on the skids, but Martha has vowed to save her beloved father's legacy.
Former British soccer hero Tony Branch wants to add Martha's team to his growing sports empire. But he wants it strictly on his terms–full control, not a partnership. When Martha turns him down flat, he's determined to change her mind by any means necessary. If that includes using the sexual heat flaring between them, Tony is more than willing to play a game of seduction.
About the Authors:
V.K. Sykes is really two people – Vanessa Kelly and Randy Sykes, a husband and wife team who write award-winning, sexy contemporary romance. The second book in their Philadelphia Patriots Series of sports romances won the Kindle Book Review Best Indie Books of 2012 Contest, in the romance category.
Praise for The Philadelphia Patriots 3 Box Set:
"Sexy and fast paced! It was a great sport themed romance. Looking forward to their next book. (a very good husband and wife writing team)" –on Bigger than Beckham, Pioneer
If you haven't snagged your copy of The Philadelphia Patriots 3 Box Set. You really should.