Category:
victorian romance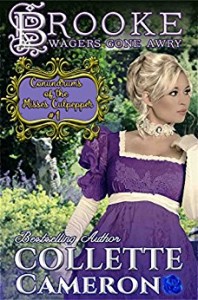 Today's HOT NEW Release is the entertaining Victorian romance, Brooke: Wagers Gone Awry by bestselling author Collette Cameron.  ONLY $.99!

Brooke Culpepper resigned herself to spinsterhood when she turned down the only marriage proposal she'd likely ever receive to care for her family. After her father dies, a distant cousin inherits the estate and becomes their guardian but permits Brooke to act in his stead.
Heath, Earl of Ravensdale is none-too-pleased to discover five young women call the dairy farm he won and intends to sell, their home. Desperate, pauper poor, and with nowhere to go, Brooke proposes a wager. His stakes? The farm. Hers? Her virtue. The land holds no interest for Heath, but Brooke does and he accepts her challenge.
"Readers will find themselves enraptured …A truly masterfully-plotted story unfolds into a delightful romance." ~InD'TaleMagazine-Crown of Excellence
"If you are a fan of… Regency romances this is definitely a must-read." ~NightOwl Reviews Top Pick
"A snort and cry-worthy romance of hilariousness." ~FlameResistant Undies Romance Reviews