Monthly Archives:
August 2014
Don't miss out on today's edgy page-turning paranormal novel, Hidden Secrets by Angee Taylor. It currently has a 4 star rating and one reader says,"Very fast paced and active story. Definitely a page turner… ready to read the next book to see what is going to happen next!" –Shauna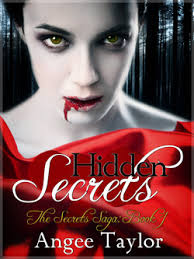 A Brief Synopsis of Hidden Secrets:
Rose has been struggling for years to find out about the mysterious illness that's killing her. She's decided to end her life after one last trip to the French Quarter…Her plans go awry when the sexy Caleb Glasson, who carries a dark secret, saunters into her life. She discovers that she's not what she appears to be, to rest of the world. The only man that can unlock that secret is dead at Caleb's hand. The most startling epiphany is that she has latent powers that will emerge in a haunting thrilling story that will answer all of her questions.
About the Author:
Angee was born in Houston, Texas in 1977. She has always had a love of reading, mostly paranormal. Angee works full time as a pre-hospital nurse and sometimes sees things that would make the rest of us have nightmares. On other days, she is blessed to see miracles. These things are what drive her to write. In 2006, she was diagnosed with a rare disease, shortly after that she was told she would be on full disability in five years and most likely to be dead in ten. She's fought to live a normal life every day since and is beating those odds. She works at a demanding job, is a single mom, cares for an elderly mother, and a hyperactive dog. Her life has inspired her paranormal novel Hidden Secrets. You can follow Angee at https://www.facebook.com/theangeetaylor
What Fans Are Saying About Hidden Secrets:
"Angee TELLS a great story and leaves you wanting more, can't wait to read the next book in the series." –Amazon Customer
"This is an extremely fast paced read and once I started I just couldn't stop. I desperately had to know what was going to happen next. The characters in the story are amazing." –Jenny
"This book has kept me on the edge of my seat and I can not wait till the next one! I think anyone who loves vampires will find this an amazing read and even kinda different…" –Amazon Reviewer
Next Page »