Fast-Paced Romantic Suspense
Romantic suspense fans will delight in today's feature book, Dangerous Embrace by Dana Mason, part of The Embrace Series. It currently has a 4.6 star rating with 70 reviews. "Dangerous Embrace is the perfect kind of romantic thriller. There was plenty of suspense, but the evolving relationship between Sarah and Mark is what really made me love the story." ~New York Times Best Selling Author, A.L. Jackson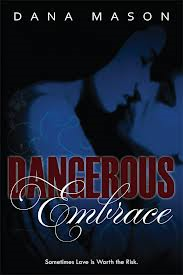 A Little About Dangerous Embrace:
Sarah Jennings wants nothing more than a quiet life–alone. Raised by an eccentric mother, their life on the road only taught her how to run away from hard times. When she finds herself in an abusive relationship, this lesson serves her well. Eight years later, she's settled back in her hometown and less fearful than she's ever been in her life. Until one night and one brutal act of violence changes everything.
Mark was born and raised in Santa Rosa. He married his high school sweetheart and never questioned his life, until he found his wife with another man. Now divorced, he wants something more. He's passionate about his job, he wants to protect people, and he devotes his life to it. This time he's protecting more than just another client, he's protecting his future; at least, Sarah Jennings will be his future, once he convinces her she loves him.
About the Author:
Dana Mason started writing to prove to her computer geek husband and her math & science geek kids that she actually has a brain; it's just a right functioning brain instead of a left. She's lived all over the country and uses that experience in her writing and character studies. Her debut novel, Dangerous Embrace, is the first in a romantic suspense series about a group of friends from Northern California who learn just how short life can be when you don't hold on to what's important. Second chances don't come easy…but sometimes love is worth the risk.
Some Praise for Dangerous Embrace:
"Dangerous Embrace is full of suspense that keeps you turning page after page. The plot and characters are very well written, story flows extremely well and its one of those books you don't want to put down." ~Tana Rae Reads
"Dangerous Embrace is high paced action/suspense/romance! I had a hard time putting my Kindle down!" ~Tobi, Forget the Housework, I'm Reading. . . . .
"The plot of this novel is intense, demanding, horrifying, and full of hope." ~The Coffee Pot
If you haven't grabbed your copy of Dangerous Embrace, do it today.