Edge-of-Your-Seat Romantic Suspense
Take a look at today's edge-of-your-seat romantic suspense, Profile of Evil (The Profile Series) by USA Today Bestselling Author, Alexa Grace. With a whopping 4.6 star rating, you don't want to miss this hot police procedural. "Another brilliant piece of work from Alexa Grace! Profile of Evil might just be her best book yet! Profile of Evil has a heart-stopping plot…Once you pick up this book you won't want to put it down, so prepare for a late night of reading! Alexa Grace, thank you for your amazing work, and I can't wait to read the next book in the Profile series!" –Avid Reader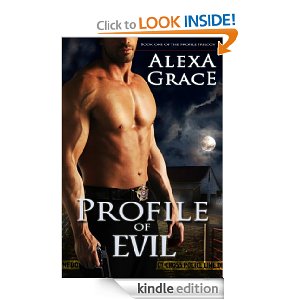 A Brief Synopsis of Profile of Evil:
Carly Stone is a brilliant FBI agent who's seen more than her share of evil. Leaving the agency, she becomes a consultant for Indiana County Sheriff Brody Chase, who needs her profiling skills to catch an online sex predator luring preteen girls to their deaths. An undeniable attraction forms between the sheriff and his profiler. Once the killer is captured, she'll head home to Florida. They both vow to end the job with their hearts intact. But will the heat between them be too much to ignore?
About the Author:
Alexa Grace's books Deadly Offerings, Deadly Deception, and Deadly Relations have consistently been listed in Amazon's Top 100 Bestselling Romantic Suspense and Police Procedural Books. Deadly Deception, Deadly Relations and Deadly Holiday are ranked #1 in the top 100 Top Rated Books in Police Procedural Books. You can visit her at – http://www.alexa-grace.net/ Friend her on Facebook – https://www.facebook.com/AuthorAlexaGrace Tweet her – @AlexaGrace2
Praise for Profile of Evil:
"I thought this was written really well, and obviously a lot of research had gone into this part of the story, which was slightly OMG – in places. I will say it isn't really gruesome, so shouldn't put anyone off, just an excellent read which left me hungry for more of the story." — Reviewed by Alison Higson for Book Addict Mumma – Five Stars
"WOW! Alexa Grace has blown me away again! From beginning to end I was wrapped up in the story from head to toe! With twists and turns and a gut wrenching story I highly recommend PROFILE OF EVIL for they romantic suspense readers!" — Reviewed by Tobi Helton for Forget the Housework, I'm Reading – Five Stars or Five Laundry Baskets
Make sure to grab your copy of the edge-of-your-seat romantic suspense, Profile of Evil today.