Steamy Love-At-First-Sight Romance
Take a look at today's steamy love-at-first-sight romance, Hello, Love! by E Journey. It currently has a 4.2 star rating.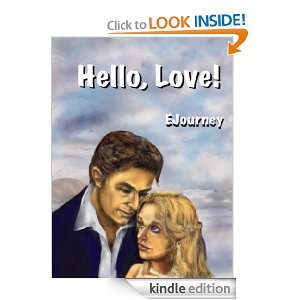 "If you're looking for a nice, modern, love story; "blush-worthy" love scenes, and a happy ending, you will enjoy this book." –Tracey Tupper
A Little About Hello, Love!:
The palpable attraction between a playboy and a law student leads to an unexpected encounter before his wedding that raises the shadow of a vengeful jilted lover. The lovers are torn apart by events as well as doubts and insecurities within themselves. Older and wiser, they eventually get back together but their lives are again thrown into disarray by a hit-and-run accident. A modern day pastiche of Austen and Gaskell novels.
About the Author:
E Journey's writing was her first love and she wanted to be a journalist, but her parents balked at that. So she compromised and went into the social sciences, actually preferable to chemistry, her parents' choice.
Her first novel, Margaret of the North, is illustrated with digital "paintings" done on an iPad. Her book website is: www.margaretofthenorth.wordpress.com for articles on books and writing, some reviews, and interviews.
http://www.goodreads.com/author/show/5989910.E_Journey
What Readers Are Saying About Hello, Love!:
"The unexpected surprises and emotional encounters of this novel keep the reader enthralled until the very last page… – an excellent read for one who doubts the power of love at first sight."– GoodbooksToday.com Reviews
"…. unlike anything I expected… three-dimensional characters….struggles are very real….I enjoyed the writing style. It was new, different and refreshing to have a literary spin on the romance genre."–Bookaholic Ramblings
Make sure to grab your copy of the steamy love-at-first-site romance, Hello, Love! today.