Action-Packed Romance Box Set – ONLY $.99!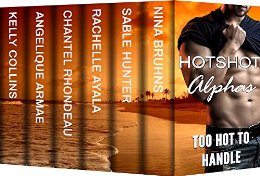 Today's feature is a super box set packed with action, romance, suspense, love, danger, and fun. Don't miss HOTSHOT Alphas: Too Hot to Handle by Bestselling Authors. Only $.99 for a Limited Time!

Because you can't get enough! Hotshot Alphas are men who know what they want and get what they want. Will it be you?
"Great writing, builds suspense and delivers the action – hot sex scenes. Hot. Hot. Hot. Why can't there be more guys like the McCoy men!" – Terri Black
"Curl up in bed, read-all-night good!" – Sara Kay, Reader