Absorbing New Contemporary Romance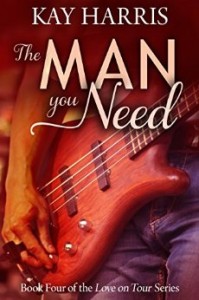 Today's Feature is the absorbing contemporary romance, The Man You Need by Kay Harris. *Book 4 of the Love on Tour Series – ONLY $.99 Right Now!

"I want a rock star. But my brother (who is a rock star) is like a giant (and I do mean giant) roadblock to hooking up with any of the hotties he plays with. And now he's enlisted the help of his stuffy (yet insanely good-looking) tour manager to keep me celibate… Someone get me off this bus!"
The fourth book in the Love on Tour series explores the stresses of a hurtful past, a loving and suffocating family, and the ups and downs of unexpected love.