Sweet New Sports Romance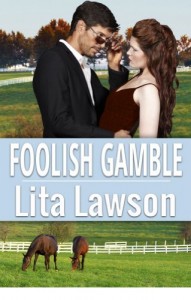 Today's feature is a sweet new sports romance. Take a peek at Foolish Gamble by Lita Lawson. Only $.99 for a Limited Time!

An unexpected gift and a gamble on passion… Austin Keller's latest girlfriend has a grudge: Kentucky's most notorious playboy and sought after bachelor hasn't endowed her with the engagement ring she hoped for. So she gets her revenge by giving ownership of one of his finest racehorses to a complete stranger! Cassi Whitaker is desperate: If she doesn't find some money soon, her family's debt-ridden farm will be foreclosed and she will lose her beloved colt, Foolish Gamble. She can't believe her luck when during a chance encounter she's given the registration of a valuable thoroughbred.
"This book was excellent and held my attention from beginning to end. I am an avid equine lover so this book immediately caught my attention." –Amazon Reader
"The heroine Cassi Whitaker is a wonderful character, who puts her love for horses and her personal integrity above all. It is a fast read and leaves you with a good feeling. Praise for the author Lita Lawson. Looking forward to more exciting adventures from her!" –READER