A Tale of Love and Redemption
If you're looking for an emotional romance that keeps you glued to the pages, take a look at Fallen Angel by Mona Ingram. It currently has a 4 star rating with 42 reviews. "Mona Ingram writes a beautiful tale of love and redemption…Ingram does a superb job of creating two imperfect people the reader cannot help but care about. The story is well-crafted, the writing clean, the descriptions of the countryside absolutely perfect…I've been a fan of Ingram for some time, but I will definitely be reading more of her work." –Amazon Reader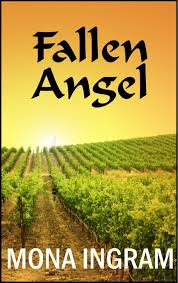 A Little About Fallen Angel:
Laura MacLeod is in trouble. A pediatric nurse in the oncology ward, she understands suffering, but when tragedy touches her personally, she falls apart and becomes addicted to pain killers. Her downward spiral is humiliating as well as life-changing. Fresh from rehab, she travels to the Okanagan Valley, where she has agreed to perform menial work at a winery. F-18 fighter pilot Bradley Jamieson has witnessed the horrors of war, resulting in the loss of his ability to speak. Weary, he accepts his friend's invitation to visit the winery. Unable to understand how a beautiful woman could throw away her life by taking drugs, he is determined to avoid Laura. But the more he sees of her, the more he's attracted to her. The summer sun isn't the only thing generating heat in the valley. Laura and Bradley battle their growing attraction for one another while fighting their inner demons. Can these two troubled souls find the peace they desire, or will reality bring them crashing back down to earth?
About the Author:
Born in Ontario, Mona and her family moved to British Columbia when she was twelve, and she can't imagine living anywhere else! In recent years she has lived in the Okanagan Valley and on Vancouver Island. In addition to reading and writing, Mona enjoys traveling, making bread, bird watching and sitting beside still mountain lakes. Website: http://monaingram.com E-mail: mona@monaingram.com Blog: http://monaingram.blogspot.com
What Fans Are Saying About Fallen Angel:
"The book had me smiling in places, and wanting to cry in others. That's a good sign for me." –Amazon Reader
"…well developed – likeable, and down-to-earth with baggage that could belong to anyone you know. I especially liked the way the author took the time to give enough background for the reader to see just how easy it is to fall into the grips of addiction or depression." –Amazon Reader
Make sure to grab Mona Ingram's Fallen Angel today.