A Marine Romance Series that Keeps Getting Better
When Lillianna finds out she's pregnant, she's forced to reach out to Paul. But is she ready to let the father of her child be her Marine Ever After…. Ms. Long has created another Marine tale that will keep you glued to the pages. It currently has a 5 star rating. "Heather Long has done it again. Once more, she has created characters that have lived on in my soul long after I've finished reading them. I hope she writes her Marines forever." –Rebecca Royce, Bestselling author of The Westervelt Wolves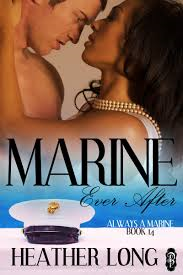 A Little About Marine Ever After:
Marine Paul Torres is used to women who he can bed with a wink and a smile. Many of his friends have settled down, and he's a little turned on by the allure of finding the right partner as well. Then he meets Lillianna Hansen while attending a wedding.
After a passionate night, Paul wakes to find her gone. He wants more than a one-night stand with the alluring Lily but his limited leave is up and he's forced to return to active duty.
All Lillianna wanted was a good time. But Paul's attention—even from thousands of miles away—is hard to resist. She tells herself repeatedly she doesn't want a relationship with a Marine. But she can't deny the consequences of their passionate night.

About the Author:
Heather Long lives in North Texas with her family. As a child, Heather skipped picture books and enjoyed the Harlequin romance novels by Penny Jordan and Nora Roberts that her grandmother read to her. Heather believes that laughter is as important to life as breathing and that the Easter Bunny, the Tooth Fairy and Santa Claus are very real. In the meanwhile, she is hard at work on her next novel.
Praise for Marine Ever After:
"This was one sexy story yet so sweet at the same time. This is probably one of my all time favorites of Ms. Long's Always a Marine series." –Sheri V.
"There are separations, odd hours, moving, anxiety over duty and duty stations, leaving friends, making new friends, etc. It is hard to put all of that into a love story but Heather Long not only does it she makes it part of the romance. This is a fantastic series and each story seems to get better and better." –D. Antonio
Make sure to grab your copy of Marine Ever After today.