Saucy Romance Packed with Action Adventure
Saucy romance packed with action and adventure. Don't miss today's feature book, Shannon's Law by Emma Calin. At only $.99 this is bargain you don't want to miss.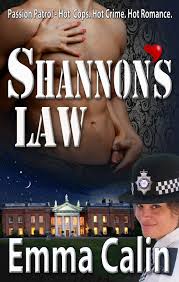 A Brief Synopsis about Shannon's Law:
A steamy romance novel introducing a strong, witty lead character – Shannon Aguerri. She's a police officer who locks up criminals and always gets her man. Moved out from the city after one-too-many maverick missions, she discovers there's more going on in this sleepy village than meets the eye. The son of a local aristocrat arouses suspicion of drug crime activity – but his widower father arouses more animal instincts! A fast-pace humorous action adventure with crime, intrigue and hot romance.
About the Author:
Emma Calin was born in London in 1962. She currently lives in France and the UK. She has been writing since childhood and has won numerous local, national and international prizes for poetry and short stories.
What Readers Are Saying about Shannon's Law:
"I loved the book and I think you will too. Emma Calin is a great writing, the editing is well done, and the story flows very nicely.. even the steamy steamy steamy parts!" –Jay Mittener
"The story is fascinating and provides a nice backdrop that connects well with the erotica. Fans of the genre will like it." –Mike D.
"If you like your books action packed an racy then you will enjoy Emma Calin's latest installment in the Passion Patrol Series." –Scott
Grab today's saucy romance, Shannon's Law. Readers of the genre won't be disappointed.