Terrifying, Fast-Paced Thriller
USA Today bestselling author, Debra Webb has struck again with her new terrifying, fast-paced thriller, VILE: The Faces of Evil. Book Eight in The Faces of Evil series will leave you breathless. Already holding a whopping 5 star rating with 11 reviews, you don't want to miss this one.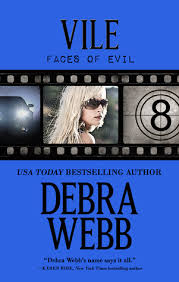 A Little About VILE: The Faces of Evil:
Deputy Chief Jess Harris knows her time is running out. Somehow she must protect the people she loves and any more innocent victims from the serial killer obsessed with her. Is sacrificing herself the only way to stop this evil?
About the Author:
DEBRA WEBB has penned more than 100 novels including her internationally bestselling Colby Agency series. Her debut romantic thriller series, Faces of Evil, propelled Debra to the top of the bestselling charts, including USA Today, for an unparalleled twenty-four weeks and garnered critical acclaim from reviewers and readers alike.
Visit Debra at thefacesofevil.com or debrawebb.com.
What Fans Are Saying About VILE: The Faces of Evil Book 8:
"The action is fast-paced and all of the characters' stories are interesting. The series is well written and the plots believable." –Amazon Reviewer
"This is the 8th book in The Faces of Evil Series and it does not disappoint! They just keep getting more intense as they go and you do not want to put it down!" –Amazon Reviewer
"Vile is following in its predecessors wake. The drama and wickedness just rolls through the book from start to finish. Your appetite for the next installment keeps growing with each page you read. Another great job Deb, now on to the next." –Tracey
If you haven't snagged the terrifying, fast paced thriller, VILE: The Faces of Evil – do it today.