Charming New Regency Romance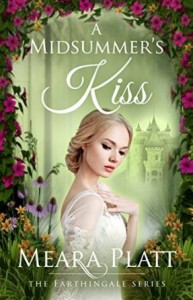 One reader calls today's HOT NEW Release, "Another winner for entertainment and charm in a great series!" Take a look at today's charming Regency Romance, A Midsummer's Kiss by Meara Platt.

Bestselling Regency romance full of humor, mayhem, and sparks. A Midsummer's Kiss is a journey to London with a glimpse of true love.
"Graelem and Laurel are enduring characters whose story will leave you breathless. A Midsummer's Kiss is everything one wants from a Regency. Loved it! The final scene was deliciously romantic!" — Bestselling historical romance author Amanda Mariel
"… a magnificent story transcending the reader into being part of the most delightful family imaginable, the Farthingales. Meara Platt is much more than just a writer; she is at heart a storyteller." –Amazon Reader