Emotionally Charged Romance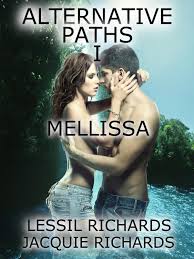 Part romance, part paranormal, part coming of age and infused with drama and heartfelt emotion, today's feature is the exciting romance, Alternative Paths by Lessil and Jacquie Richards.

Traykie has never been a member of the in-crowd at the high school. He has Type I Diabetes and that makes him different, so he hangs with his own group of friends who don't fit the in-crowd criteria either. They do well in their own company until Mellissa moves into town and turns Traykie's world upside down. Mellissa is no ordinary girl; she comes from a long line of gypsies from which she has inherited supernatural powers.
"Absorbing from beginning to end…" –Amazon Reviewer
"Very well done. The story gets you hooked early and keeps it going. Looking forward to the next installment to come." –Amazon Reader
"Emotionally charged, this tale delves so deeply, it could be real. I didn't want to put the book down. Amazing." –Reviewer