Thrilling Romantic Suspense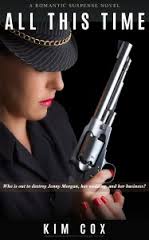 Fans will love today's thrilling romantic suspense, Book 1 in the Style & Profile Romance Bride Mystery Series, All This Time by Kim Cox.

At thirty, Jenny Morgan's biological clock is ticking. But as a fashion magazine CEO with a busy schedule and no significant other, her wish is unlikely to come true. When her father receives a potentially terminal diagnosis, he longs for a grandchild before he dies. With her religious beliefs, a sperm donor isn't an alternative. Jenny's only immediate available option is her single co-worker and best friend, Trevor Drake. Can she really trust him to be a good husband? Trevor has loved Jenny since college, but she only sees him as a friend with no ambition. Can Trevor convince Jenny of his love by then?
"Filled with suspense, mystery as well as heart-filled emotion, All This Time offers a delightful read. " –Amazon Reviewer