Brand New Romance Anthology ONLY $.99!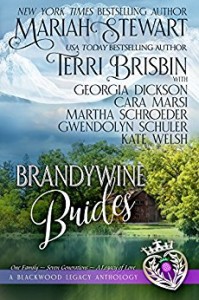 Seven Blackwood generations. Seven loves worth fighting for! Dive into today's HOT NEW Release, the brand new Romance Anthology, Brandywine Brides by New York Times and USA Today Bestselling Authors. ONLY $.99 Now!

Almost three centuries ago, a Scottish convict was sold into indentured servitude in Philadelphia and given a second chance at a life far from the country of his birth. In the years since, the farm secured by Finlan Blackwood's efforts would grow and thrive in the Brandywine River valley just as his family and descendants did. Today, Blackwood Farm is one of the largest and most successful farms in Chester County. But it took the sacrifices and best efforts of each generation to make it so.
One Family – Seven Generations – A Legacy of Love