Medieval Knights and Damsels ONLY $.99!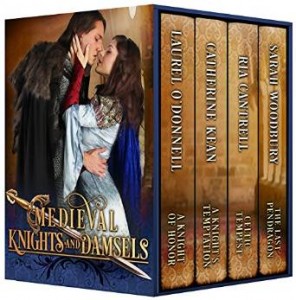 Only $0.99! MEDIEVAL KNIGHTS AND DAMSELS is a special collection of medieval romance novels and only available for a limited time. Pick up our HOT NEW Release Today!

This exciting boxed set includes four full length novels by best selling authors! Books in the set include: Sarah Woodbury's THE LAST PENDRAGON; Ria Cantrell's CELTIC TEMPEST; Laurel O'Donnell's A KNIGHT OF HONOR; and Catherine Kean's A KNIGHT'S TEMPTATION.
"The action never slows in this adventurous tale." -Romantic Times Magazine
"Full of action with twists and turns . . . fast-paced with plenty of tension and drama." —Night Owl Romance