Historical Regency Romance ONLY $.99!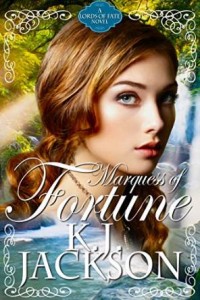 A sheltered existence ripped away. Today's HOT NEW Release is the intriguing Historical Regency Romance, Marquess of Fortune by K.J. Jackson. *A Lords of Fate Novel

Desperate to save her sister from death, Lily Silverton finds a beacon of hope in the rogue man that stumbles upon her in the middle of the night. Is he the answer to her prayers, or something much more?
"Typical K.J. Jackson book which I am thankful for since I can't seem to put them down! Can't wait for the next one." –Amazon Reader
"Every now and then you read a book that touches your heart and soul. I would say this is definitely one of them. I cried, I smiled and my heart tore with the trials the couple goes through. It has everything that makes a fantastic read…" –Amazon Reviewer