Christmas Novella by Bestselling Author
A Christmas novella to get you ready for the holiday season. Take a look at today's HOT NEW Release, The Christmas Bride: A Novella by romance author Sylvia McDaniel. It already boasts a 4.8 star rating with 16 reviews. Don't miss this holiday treat.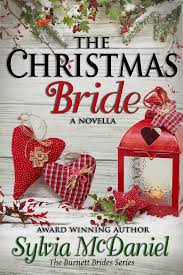 A Little About The Christmas Bride:
Eugenia Burnett has gotten what she wants. Her three sons are married and she has three grandchildren, with the fourth on the way. But she hasn't given up her matchmaking ways. Now she's moved on to the people she knows and she's matching widows and widowers together. Until one widower, Wyatt Jones let's her know in front of a crowded restaurant that he's not interested in any of the women she keeps sending him except her. Sworn never to remarry, she doesn't need a husband or want one.
About the Author:
Sylvia McDaniel is a best-selling, award-winning author of historical and contemporary romances. Known for her sweet, funny, family oriented romances, Sylvia is the author of The Burnett Brides a historical western series set in Texas. The Cuvier Women, a Louisiana historical series, and several short contemporary romances. Currently she's written fifteen novels. Look for her the first Tuesday of every month at the Plotting Princesses blogspot http://plottingprincesses.blogspot.com. She can be found online at: www.sylviamcdaniel.com or https://www.facebook.com/SylviaMcDanielAuthor.
What Readers Are Saying About The Christmas Bride:
"I adore The Christmas Bride and highly recommend this novella, as well as the other books in Sylvia McDaniel's Burnett Brides Series. Don't miss this wonderful holiday treat!" –Amazon Reviewer
"The Christmas Bride was a treat to read. All around this was a very entertaining book and a fine ending to a series I quickly grew to love." –Amazon Reviewer
"You've got to get your hands on this novella and just in time for the holidays!" –Amazon Reviewer
Ms. McDaniel's has done it again with a Christmas novella. Grab your copy of The Christmas Bride today.