Sexy Sizzler, NYT Bestselling Author
If you're looking to get lost in a quick sexy sizzler, take a look at One Perfect Night by NYT bestselling author Bella Andre. It currently has an impressive 4.0 star rating with 300 reviews.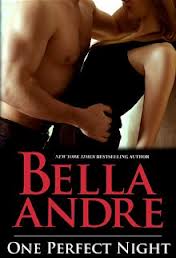 A Little About One Perfect Night:
One touch…One kiss…The first time Noah Bryant meets Colbie Michaels, they collide at the top of a snowy mountain in California and sparks fly.
One night…One forever love…Colbie wants to believe in a happily-ever-after, but experience tells her falling for Noah is more likely to lead to a broken heart.
About the Author:
New York Times and USA Today bestselling author Bella Andre has always been a writer. Known for "sensual, empowered stories enveloped in heady romance" (Publishers Weekly) about sizzling alpha heroes and the strong women they'll love forever, her novels have appeared on Top 10 lists all over the world.
What Fans of One Perfect Night Are Saying:
"Bella Andre will shock you, make you laugh, turn you on with her incredibly seductive heroes and of course, make you fall in love with each book! Definitely an auto-buy author for me!"
~ Under the Covers Book Reviews
"Bella Andre writes warm, sexy contemporary romance that always gives me a much needed pick me up. Reading one of her books is truly a pleasure." NYT Bestselling author Maya Banks
Make sure to snatch your copy the sexy sizzler One Perfect Night today.