A Military Romance with Heart
Kindle fans, take a look at today's contemporary military romance and our HOT NEW Release – What Part of Marine Don't You Understand by Heather Long. "They (The Challenge Series) strike a chord in me and Ms. Long tells the story with love and respect, humor, sensitivity and a healthy dose of romance so what is not to enjoy?" –D. Antonio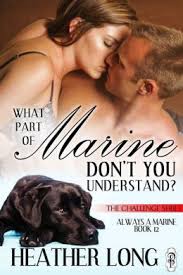 A Little About What Part of Marine Don't You Understand?
Matt McCall's struggles to reintegrate into civilian life have lasted for two years. Therapy has only helped him a little. Twice he's returned to his home state of Indiana and twice, he retreated to Mike's Place. Uncertain of his place in the world, he quietly battles depression. Can one woman help heal the wounds in this Marine's heart?
About the Author:
As a child, Heather Long skipped picture books and enjoyed the Harlequin romance novels by Penny Jordan and Nora Roberts that her grandmother read to her. Heather believes that laughter is as important to life as breathing and that the Easter Bunny, the Tooth Fairy and Santa Claus are very real. In the meanwhile, she is hard at work on her next novel.
Praise for What Part of Marine Don't You Understand?
"I have loved every story in this series, and this one is so well written. Ms. Long chose the perfect mate for Matt in Naomi, who's surrounded by Marines within her own family, with an older brother who also suffered from PSTD. Thank you for another wonderful story, and keep them coming!" –Jan Meredith
"I loved Matt's honesty and determination to get through his PTSD. I highly recommend that you get this book and the rest of the series, I mean how can you go wrong with Hot Marines!" –Stacy L. Gragg
Make sure to pick up today's HOT NEW Release, What Part of Marine Don't You Understand? today.