Epic Time Travel Romance
Find out why fans are calling today's feature, "The Best", "A Riveting Roller Coaster Ride", and a "Masterpiece".  Time Masters: The Call by Geralyn Beauchamp is Book One in an epic time travel romance series. One reader says, "The writing is crisp, the humor is heartening and genuine…the passion is deep, and the faith is rich. To sum it up in a word…amazing." –Deena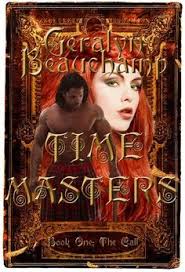 A Little About Time Masters: The Call:
The year is 3698 and an unknown instigator has the threat of civil war not only brewing, but near boiling! Dallan MacDonald, Time Master Kwaku Awahnee's pre-chosen successor, must now take up the office of Time Master to stop the culprit before war erupts and destroys the race of Men. To become a Time Master, the unsuspecting Highlander has to willingly join with a Muiraran Maiden, a creature of incredible power who, stolen as an infant, hidden in another time, and now grown, must mate or die. To save her, Dallan must convince the Maiden of her true origins, then get her to fall in love with him.
Shona Whittard had a lot. Everything she could possibly ask for, some would say. Except the freedom to run her own life and make her own decisions. And she was well tutored as to what was acceptable for a young lady to do or say in not only the twentieth century, but the fifteenth through nineteenth centuries as well. Other girls dated. Shona, not allowed to date, was jealous of the freedom of choice normal girls had.
Shona was just going to have to face facts. She was a freak. Little did she know she was so much more. And little did any of them know of the evil that wanted to claim the Maiden for its own …
About the Author:
Geralyn Beauchamp, a Wellness and Relationship coach, has written for fun all her life. A book reviewer for five years, she got to know a lot of great people and write a really big book! A book her author friends finally convinced her to share! Because of this her coaching has segued into writing and marketing for both aspiring and published authors. Geralyn and her family live in the Pacific Northwest.
What Fans Are Saying About Time Masters:
"Intricately interwoven throughout this epic novel are comedy, heartache, laughter, song, passion, suspense, treason and more…I eagerly await her 2nd installment in this engrossing trilogy." –David
"This is epic stuff, dear friends! "Time Masters" grabbed me by the heart and did not let go until the final page was turned (and that was a LONG time, since it's over 550 pages in length!)" –Deena
"It has every genre, all the elements of a good story, and a superb quality of writing rolled into one." –Amazon Reader
"A book about battling evil, virtue, loyalty, strength, true love, a Creator, masculinity, femininity, meaning and purpose. I absolutely cannot wait for the next in the series. Meanwhile, I will read this book over again. I highly recommend this read." –Jennifer
Don't miss today's epic time travel romance, Time Masters: The Call.