Brilliant Bestselling Series in One Set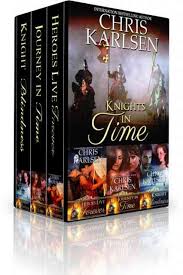 Escape with today's brilliant bestselling series, together for the first time in a boxed set, today's HOT NEW Release, Knights in Time by Chris Karlsen.

Beautifully researched, not typical premises. Three friends, warrior knights, one battle with change their lives, love will change their worlds.
"This was a fantastic time travel series. I hated to see it end." –Amazon Reviewer
"You can tell the author did her research–lots of great detail. I enjoyed all of these books immensely and highly recommend them." –Amazon Reader