Sizzling Romance Novel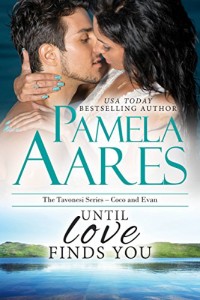 "A sexy and spirited love story I couldn't put down!" Today's Feature is the sizzling romance novel, Until Love Finds You by USA Today Bestselling Author, Pamela Aares.

The latest release in Pamela Aares' Tavonesi series takes you on a journey deep into the mysteries of love. When photographer Coco Tavonesi discovers her hot new computer geek is really an tech billionaire, the secrets they're hiding threaten no only their love but their lives.
"A great series for anyone who loves romance." ~ The Color of Ink
"I know where to go when I need a sensual, feel good read!" ~ Amazeballs Book Addicts
"I highly recommend this series to any readers who love Nora Roberts or Bella Andre." ~ Book Lover Reviews