Steamy Romance Novel ONLY $.99 Now!
October 25, 2017

Filled under

erotica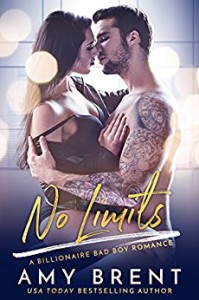 Today's Feature is the steamy romance novel, No Limits: A Billionaire Bad Boy Romance by USA Today Bestselling Author, Amy Brent. ONLY $.99 Right Now!

F*ck the no fraternizing policy.  I want to own her, mark those t*ts as mine, claim her – forever.  And I want her to have my baby!  Guess some lines are to be crossed, right?
"I loved this book once I started I couldn't stop until I was at the end. The chemistry between Charlie and L was amazing. This is another 5 star hot for Amy Brent. If you haven't read anything by her this is your chance." -Reader
"Grab a copy, curl up and hang on tight for a different kind of love story." -Amazon Reader