Book One of Hot & Sexy Series ONLY $.99!
July 14, 2015

Filled under

sexy read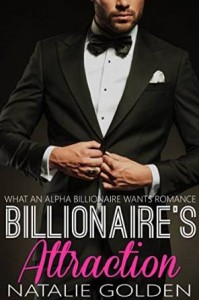 Pick up book one in what promises to be a hot and sexy new romance series, Billionaire's Attraction by Natalie Golden. ONLY $.99!

Twenty-something Bethany Campbell has a life with few complications. She's a partner in a dress boutique with her friend and roommate Joanne and she just started dating Nate, her handsome best friend since college and the best "playing it safe" choice for a romantic partner.  Cameron Porter is the eccentric young heir of his family's multi-billion dollar empire. Sexy, powerful, dominant and used to getting what he wants, his killer smile makes it impossible for women to say no. He loves all of his exotic toys and he loves to play games, especially behind closed doors.
"You must read this book, trust me-your jaw will drop at the end and you will definitely want more. I personally can't wait for Part 2." –Reader
"I got hooked from the very first chapter and gradually as I moved ahead turning the pages I cound hardly stop reading. I will surely following the author, thank you! " –Amazon Reviewer