Fifteen Enchanting Romance Tales in One FREE Set!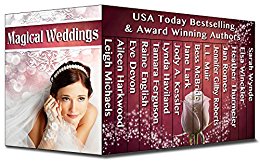 Fifteen enchanting romance tales – Now FREE! Today's feature is, Magical Weddings by USA Today Bestselling and Award Winning Authors.

Whether real or only in the hearts of the bride and groom, the magic of weddings is undeniable. And irresistible! As these 15 enchanting happily-ever-afters by bestselling and award-winning authors prove.
"Adorable!! One of the better compilation series I've read with varied stories. It was such a quick and easy read even though there were fifteen separate stories. There is something for everyone!! Must read!" –S. Bartholomew, NetGalley reviewer
"… a wonderful collection of stories bringing others together in love. There was a good mix of stories, from paranormal to humorous, from sweet to sexy…." –Cynthia Stone, NetGalley reviewer