Delightful Contemporary Romance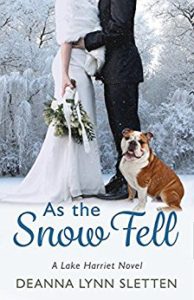 Will the wedding go on or will fate play a hand in Mallory's happily ever after? Today's feature is a delightful Contemporary Romance, As the Snow Fell by Deanna Lynn Sletten. ONLY $.99 Right Now!

Mallory and James were once in love but when it fell apart, he left without a word. Ten years later, they meet again – a month before Mallory's wedding to someone else. Will fate bring them back together – or will the wedding go on?
"As the Snow Fell takes us back to the enchanting neighborhood of Lake Harriet… Once again, Deanna has filled one of her stories with warm, wonderful characters that you can't help but come to love. And the dog, Brewster—there's always a dog—will warm your heart… Deanna's stories are always ones that I can just escape into—where I can just put the rest of the world aside for a little bit. And I love that this one is set around Christmas time…" -READER
"A charming tale of an old romance causing issues with the current one. An adorable dog, a woman finding herself and her happily ever after. I laughed. I cried. I thoroughly enjoyed." -Amazon Reader