Victorian Romance by Bestselling Author ONLY $.99!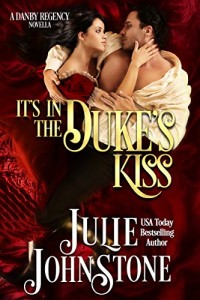 You will fall hard for today's HOT NEW Release, the enchanting Victorian Romance, It's in the Duke's Kiss by Julie Johnstone. ONLY $.99 Right Now!

Lady Emmaline Radcliffe always knew she never wanted to marry a man who embraced the rules of Society. But when her mother threatens to secure a suitable match for Emma if she cannot make one on her own, Emma sets out to determine if her girlhood infatuation is the love she's been looking for. Nathaniel did save her life once, after all. But when she finds herself in the arms of the gentleman's brother—the serious and proper Duke of Blackbourne—she begins to question all she ever planned.
"I adored this wonderful written novella by Ms. Johnstone. Will Emma find the love of her dreams or will her dreams change course? I highly recommend you read this delightful novella to find out!" –Amazon READER