Dark Vampire Romance Bundle ONLY $.99!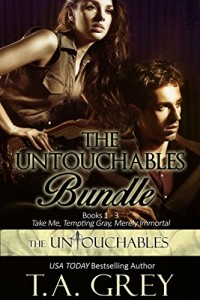 From a USA TODAY bestselling author comes three dark vampire romances in one bundle. Our feature is The Untouchables Bundle by, T.A. Grey.

Come visit the dark and enticing world of the Blackmoore family where political intrigue, the rich and the poor, and the ugly and beautiful work through conflicts with one unending tether tying them all together: desire.
"Ms. Grey's world is not only magical, but erotic, enchanted, and deadly. In addition to the fiercely passionate female characters, Grey creates a fresh cast of male counterpoints who are seductive, gritty, rugged, and noble." Vampire and Immortal Books
"This story will yank you in and hold you hostage until the very last word. It's a page turner that has captivating characters, interesting plot lines and danger around every twist." Reviewing Vixens