Page-Turning Western Romance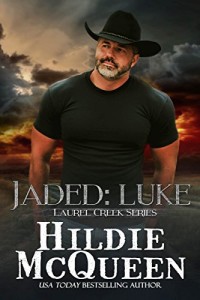 Today's HOT NEW Romance is the brand new contemporary western romance, Jaded: Luke by USA Today Bestselling Author Hildie McQueen.
Nothing much scares Luke Hamilton these days, except maybe hope…
Haunted by PTSD and a failed marriage, Luke Hamilton returns home to Laurel, Montana. Going home isn't an easy fix, but it beats ending up in prison or dead. At first the familiar surroundings and open land seem to set things right, but soon his old demons rear their ugly heads and he realizes it's the wrong time to enter any relationship.