Posts Tagged by
Supernatural Romance
Don't miss today's feature book, a supernatural ghostly thrill with the right amount of steamy romance and intrigue. Lost in Shadow (A Shadow Walkers Ghost Novel) by Cynthia Luhrs currently has a 4 star rating.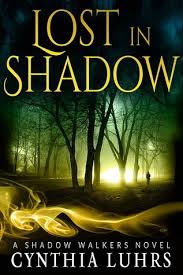 A Little About Lost in Shadow:
A relaxing vacation to Scotland turns deadly when a chance encounter with a mysterious stranger leads to murder. Emily learns she possesses an extraordinary ability allowing her to interact with the dead. Colin prowls the streets of Edinburgh eviscerating those who prey on humanity. The ancient warrior who long ago lost hope must now protect his soul mate before the enemy destroys them both.
Unwittingly drawn into shadow when she intervenes to help, a terrible curse is unleashed. Now with only a week to break the curse, time is running out. Locked in a deadly fight with forces that will stop at nothing to destroy her before she succeeds, Emily must find the key.
About the Author:
Cynthia Luhrs is the author of the Shadow Walkers novels. A graduate of Towson University, she was practical, majoring in Business which served her well now she's a writer and needs to stay organized. Prior to becoming a full-time writer, she toiled away in Corporate America for many years. Her idea of a perfect day is no interruptions and the freedom to live in her head all day, writing to her heart's content, an icy cold drink next to her as she creates the next Shadow Walker book. Of course her cats frequently disrupt this oasis of serenity.
What Readers Are Saying About Lost in Shadow:
"I've read alot of books with ghostly elements. Yet I find that this book used in such away that leaves all other books on ghosts in the dust. I thought the author did an excellent job of creating this lore… I will definitely be looking for this author's work in the future." –Angie
"Cynthia Luhrs' writing is exquisite. She creates a world of pirates, high intrigue, ancient gods, overly curious and protective policeman, evil immortals, kind and wondrous immortals, almost saintly mortals, and hope. Of course, there is also steamy passion…She is a master of plotting; her characters are divine – they almost created holograms of themselves, and walked off the page before me." –Michelle S. Willms
"This book truly has it all: it's oozing with "otherworldly" suspense set in mysterious Edinburgh and has one of the most romantic (and steamiest!) love stories I've read! A fabulous enthralling story with sexy, compelling characters…I can't wait for the next page-turner from this fantastic author!" –Amazon Reviewer
Grab today's supernatural ghostly thrill, Lost in Shadow. You'll be glad you did.
Go on a magical journey in today's contemporary romance, The Thin Place by Lori Herter. "It was fresh and different from anything I've read in years." Review by Lisa Kelley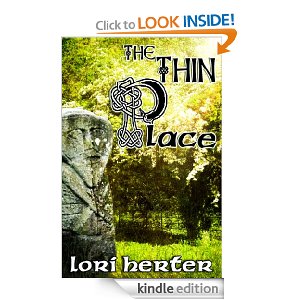 A Brief Synopsis of The Thin Place:
California native Glenna Molloy, a travel writer, flies to Ireland to explore sacred places cherished by Finn Maguire, her great lost love, in hopes of finding new meaning in her life. But Coyle Foxworth, her cagey co-author, can't work without her. He follows her to County Fermanagh, disturbing her spiritual journey. They visit tiny Caldragh Graveyard, reputed to be a "Thin Place," where the veil between our world and the Celtic Otherworld is very fragile. Magical things begin to happen.
About the Author:
Lori has written romance novels published by Dell Candlelight Romances, Silhouette, and Harlequin. Some of these books are currently available as ebooks. She also wrote a four-book romantic vampire series published by Berkley with the titles OBSESSION, POSSESSION, CONFESSION, and ETERNITY. Her website is www.loriherter.com
What Fans Are Saying About The Thin Place:
"I love this book. I was hooked from page one. It's very clear that Ms. Herter did her research for this story. The characters in THE THIN PLACE are as rich as Ireland itself. THE THIN PLACE is a story I'll remember for a long time to come and one I am sure to revisit." –Lisa
"THE THIN PLACE is a rather engaging story. Ms. Herter has certainly done her research and woven Celtic lore, at times mythical and others magical, into a story of searching for your hearts longing." –B. Culhane
Make sure to grab your copy of The Thin Place today.
Paranormal romance fans, sink your teeth into today's feature book – Vampire Elite by Irina Argo, Volume One of the Vampire Elite Series. It currently has an outstanding 4.8 star rating with 122 reviews. "…a spellbinding novel of action, suspense, romance, and conscience … the type of book that will make you read all day until you get to the end! It is deliciously addictive!"–Christine Nguyen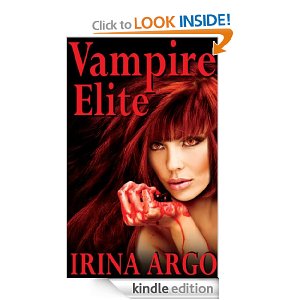 A Brief Summary of Vampire Elite:
Vampire Elite is a new vampire series. The first two parts are released in one volume. Based on an ancient Egyptian legend, packed with action and intrigue, Vampire Elite is an epic story of a bitter conflict between two immortal races and the effect of that conflict on everyone living in its grip. The new Queen is the last hope to save her people, the immortals enslaved by the vampires. But the King of the vampires has other plans. What neither expects is the passion that erupts between them.
What Readers Are Saying About Vampire Elite:
"You've managed to restore my hope in the future of vampire books." — Kim Anisi
"…… The characters are strong, complex and believable. This was a fascinating read and definitely a book for anyone who loves fantasy, romance and of course vampires." — Lit Amri
If you haven't snatched your copy of Vampire Elite, grab it today.