Thrilling Romantic Suspense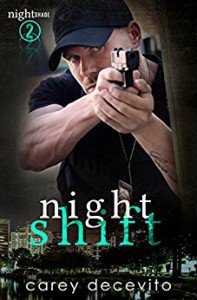 The men of Nightshade Security are back! Today's HOT NEW Release is the thrilling Romantic Suspense, Night Shift by Carey Decevito.

A serial killer… A past that haunts no matter how much the distance… Which one will strike first? Rules have a place, but when you're faced with losing the one that means most to you, lines can become blurred. With the fate of his family's future hanging in the balance, he's ready to risk it all.
"Well, let me tell you Carey Decevito has blown me away with "Night Shift" I couldn't put this down, Simply stunning." -Reader
"This was a fantastic story filled with exciting suspense, with a side of angst, and I CANNOT WAIT to read more by this amazing author in the future! HIGHLY HIGHLY HIGHLY RECOMMEND TO ALL!" -Amazon Reader