Beautifully Penned Historical Romance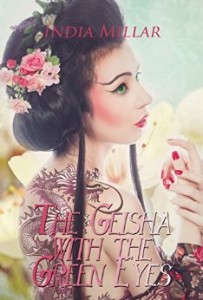 A historical romance that you won't soon forget. Today's feature is the beautifully penned novel, The Geisha with the Green Eyes by India Millar.

Half Japanese, half foreign Barbarian, born to captivity. She was trained to dedicate her life to serving the wealthiest men in Japan. Defiled at thirteen when her virginity was sold to the highest bidder. Possessed by the greatest actor in the kabuki theater. Stolen by the most powerful yakuza in Edo. The geisha who escaped from the Floating World. The Geisha with the Green Eyes.
"A masterpiece of good storytelling with meticulous attention to detail…a well-plotted tale of romance and intrigue." –Reviewer
"A well-constructed story, with memorable characters, I found the novel an easy read, and kept going back to it after having put it down." –Amazon Reader