Monthly Archives:
May 2013
Paranormal romance fans, we have the perfect book for you, Hunter's Blood Special Edition by Marianne Morea. This stunning debut novel, the first in the Cursed by Blood Saga, is a thrilling supernatural suspense. It currently has a 4.1 star rating with 33 reviews. "…ghosts, werewolves and vampires all in one exceptional read. The story line is great and keeps you turning the pages, while seeming realistic, full of danger and sexual tension." -Catie Vargas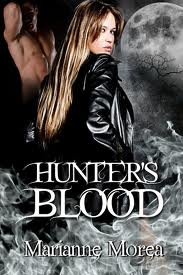 A Brief Synopsis of Hunter's Blood Special Edition:
Revenge. It's a way of life for psychic, Lily Saburi. Haunted since the brutal killing of her best friend and partner, she's obsessed with retribution. But when mortally wounded by a diseased and unstable Were, Lily is rescued by a most unlikely savior—Were-hunter, Sean Leighton. Sexy and powerful, Leighton must destroy anything threatening the survival of his pack, and that includes Lily. But their immediate attraction leaves them both breathless and confused. As Lily wrestles with the truth about herself, Leighton is faced with the looming reality that he will most likely have to destroy the woman he's falling in love with.
About the Author:
Marianne is a New Yorker, born and bred, and her stories embody the grit and complexity of the city. Her dark paranormal romance, Blood Legacy, is the first book in her Legacy Series.  She is also a founding member and the current President of The Paranormal Romance Guild, a not-for-profit organization for readers and authors of the genre.
What People Are Saying About Hunter's Blood Special Edition:
"The author has woven a successful, suspenseful romantic paranormal…Hunter's Blood will keep you enthralled…" – Arianne, Night Owl Reviews.
"How many ways, and in how many languages, can I say "awesome"? I was truly blown away…Hunter's Blood…fast paced, well written and well edited." –Gateway Edited Books, Review by Alexx Mom Cat @ Blogspot.com
Don't hesitate, grab your copy of Hunter's Blood Special Edition today.

« Previous Page
—
Next Page »